IA105 Intelligence Writing and Briefing
February 13, 2024 @ 9:00 am

-

6:00 pm
Delivery Method: Virtual
Location: Online
Duration: 3 Days
Date: 02/13/2024 – 02/15/2024
Time: 9:00 AM – 6:00 PM Eastern
This course covers basic intelligence writing and briefing principles as well as methods for effective and clear intelligence sharing. Topics include creative and critical thinking, critical reading skills, source evaluation, privacy and civil rights, intelligence writing style and structure, and generating and presenting intelligence briefings. With guidance from experienced experts, students gain hands-on experience by working through data sets based on real cases to produce intelligence products. Instructors and peers provide feedback on briefings and reports produced and presented in class.
Key concepts covered in this course include:
• Foundational skills
• Information sources
• Analytical reports
• Privacy considerations
• Briefings

    Students who complete this course are eligible for 1.0 point toward the CECFE, 3CI, and 3CIA certifications.
Successful completion of this IWAB course in conjunction with the successful completion of IA 101 Foundations of Intelligence Analysis Training will count towards the basic 40 hour intelligence analysis course required to enter IALEIA's Professional Certification Program.
https://www.ialeia.org/accepted_classes.php
Student Testimonials
"Thanks to the Intelligence Writing and Briefing class, my reports were heavily used in the search and arrest warrants because of the organization and clearness of the information." -Anonymous
"After completing this class, I took the information I learned and immediately applied it to the creation and formatting of intelligence products as well to the organizing and classifying of information and intelligence. Since applying what I learned in the class, the police departments have found the intelligence products impressive, credible, and useful. They have arrested and charged individuals involved in criminal activity at the events, or have completed other enforcement actions that positively impact the safety of the venues and communities in general." -Waukegan, Illinois
Mandatory 100% Participation
To receive a certificate upon completion of this course, the following must be completed:
• Score of 80% or above on post-test
• Complete all in-class exercises
Cancellation
NW3C may cancel any class for any reason and without notice. NW3C is not responsible for non-refundable travel accommodations lost or rendered moot as a result of a class cancellation.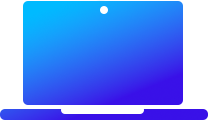 Closed captioning is always available to students. Live speech-to-text language translations to 100 different languages is also available. Contact support@nw3c.org if you would like this service.